Free the Reed
The Silverstein Ligature has several special features that are unique to its eye-catching form. The patented design is such that the Ligature covers a minimum amount of surface area on the reed, while still being able to maintain an incredibly firm grip. The Tension Adjustment pulls up (rather than just pinching the sides like most other ligatures) and the remarkable design allows the tension to ease throughout the cord evenly over time. The result is the purest sound formed from the natural vibrations of the reed. The custom engineered cord meanwhile is designed to facilitate the natural vibrations without adding to them in any way, and the core has been constructed and quality tested to never stretch.
Adjusting Sound Focus and Color

The Harmonic Enhancers on the sides of the Ligature serve more purpose than just keeping the cords in place:  they can actually change the focus and color of your sound. Moving the Harmonic Enhancers down (i.e., closer to your reed) will generally produce a brighter sound while the middle and high positions can help make it a little bit darker.  Of course, results may vary depending on your equipment setup. Feel free to experiment to find the best sound for you!
Mounting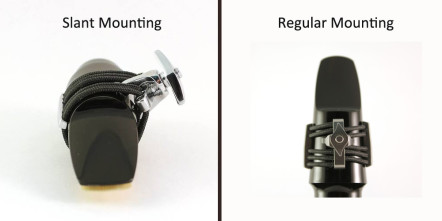 All of our ligatures may also be mounted on a slant if so desired. Since the Tension Adjustment pulls up evenly on the cord, the angle will not have an effect on the sound.
5 Year Warranty

The Silverstein Ligature is fully warranted to the original owner against defects in materials and workmanship for 5 years. The product is warranted against stretching, morphing, or unnatural changes to the cord from normal use. The warranty excludes damage from misuse, abuse, wear and tear, and other exclusions. If a product ever fails due to a manufacturing defect, even after extended use, we will repair the product without charge, or replace it, at our discretion. This warranty does not cover damage caused by accident, improper care, or negligence. Damage not covered under warranty can be repaired for a reasonable rate. The Ligature must be sent for warranty service with all parts included. Any missing parts will void the warranty or will be charged to the customer. The customer will be responsible for all shipping charges for any warranty services.